Soliel Moon Frye???
AS A KID NOW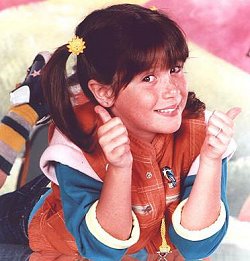 According to the IMDB she has been working consistently, if somewhat anonymously, in the film and TV industry since the cartoon spin-off "It's Punky Brewster" ended in 1989.

Her resume lists several made-for-tv movies, although she has had more high-profile roles in TV series' such as Friends and Sabrina The Teenage Witch.

In 1998, at the age of 22, she wrote and directed her first film, "Wild Horses", becoming one of the youngest to do so in cinema history. In 2004 she directed a moving and courageous documentary about her relationship with her father who has advanced Alzheimers disease.

She is currently 28 years old and married to actor and "Punk'd" executive producer Jason Goldberg.